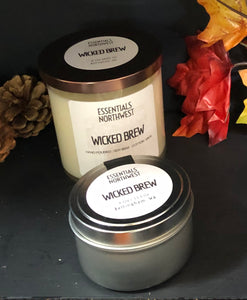 Available September and October, this scent is custom blended for candle filled evenings and brewing...whether its potions or beer is up to you!  A seductive weave of cinnamon and clove with a pinch of smokey patchouli stirred in.  This is a magical mix we hope you enjoy!
Made with 100% soy and coconut wax, lead-free cotton wicks, and a phthalate-free essential oil and fragrance blend.
Available in both travel tin sizes and classic glass jars with lids.  Jars and tins may be cleaned and reused once the candle is has been enjoyed.